Milling and cutting of polycarbonate
Polycarbonate sheets are made using a method called co-extrusion from half a product, which is polycarbonate resin. They feature very high strength, so polycarbonate can be easily and accurately milled.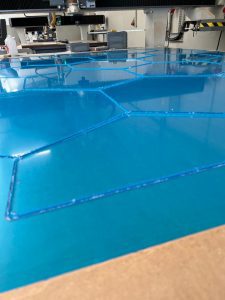 Polycarbonate milling
Polycarbonate is a very graceful material that can be processed of various types. Cutting polycarbonate is quite distinctive. It is a raw material so strong and resistant to the formation of undesirable blemishes due to processing that you should not worry in any way about the performance of the final project. All you need to do is properly prepare the order design, and we will execute it as you expect. The quality of the material is on the high side, and milling will in no way disturb its properties and structure.
This material is ideal in the construction industry for covers, canopies and other semi-transparent elements.
Polycarbonate - properties
Szacuje się, że poliwęglan jest aż 200-300 razy bardziej odporny na uderzenia niż zwykłe szkło. To bardzo dobry wynik, który plasuje go w czołówce najbardziej wytrzymałych materiałów, które można poddać frezowaniu. Poliwęglan jest odporny na działanie zarówno niskich, jak i wysokich temperatur. Można pracować z nim w temperaturach z przedziału od -40 do 120 °C. Dzięki temu może być on wykorzystywany także na zewnątrz, ponieważ nie wpłynie na niego negatywnie nawet siarczysty mróz.
The use of polycarbonate
What is produced from polycarbonate sheets? This material is used in many industries. Among other things, it can be used to make advertising signs, store signs, acoustic screens, machine guards, bus stop elements, skylights, or used during the construction of industrial and commercial buildings or sports facilities.