HDPE boards
HDPE / PEHD sheets are suitable for making swings, benches, playground ground elements, steps, structural parts, slide sides or even climbing walls. In addition to outdoor applications, Play TEC's colorful polyethylene will work well in projects for partitions, railings, lockers, checkrooms, or signs!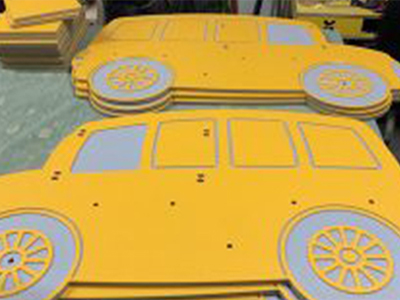 Durable and weatherproof HDPE sheets
Construction of outdoor elements requires the use of appropriate materials. When choosing it, the nature of their use should also be taken into account.
A type of project specific in this regard may be a playground, the development of which requires the use of materials that are suitably durable, weather-resistant and, above all, safe.
This is where colorful HDPE polyethylene panels, also appearing under the name of play TEC panels, which meet each of the above criteria, enter the scene. An environmentally friendly, moisture- and solvent-resistant material, it is ideal for this type of project.
However, the most important for us is the fact that HDPE boards can be processed by CNC milling, which means that even the most demanding and complicated projects can be carried out! The combination of the appropriate properties of HDPE boards and cuts of the highest precision realized on our CNC machines, is a guarantee of quality and durability.
PEHD Milling